Our Firm was invited by the legal department of the Guangzhou Branch of China CITIC Bank to conduct a seminar on "How to Conduct Due Diligence on Foreign Companies and Execution of Documents" on 1 June 2015 at CITIC Bank's Guangzhou Branch office. Over 50 staff members of the Bank's Guangzhou Branch attended the seminar. The seminar was also simultaneously broadcasted through video conference to other CITIC Bank branches in the Guangdong province, including Zhuhai, Jiangmen, Zhanjiang and Foshan.




Mr. Philip Wong, Partner of the Commercial Department and the Partner-in-Charge of the Banking and Finance Practice Team, delivered the seminar. The seminar covered a wide range of important issues, with particular emphasis on necessary knowledge for banks in relation to conducting due diligence on foreign companies and attestation services provided by the China-appointed Attesting Officers in Hong Kong.




Our Firm's Managing Partner, Ms. Amanda Liu, also attended the seminar.




The Bank expressed its gratitude to our Firm for providing outstanding quality of services and is eager to maintain good business relationship with our Firm.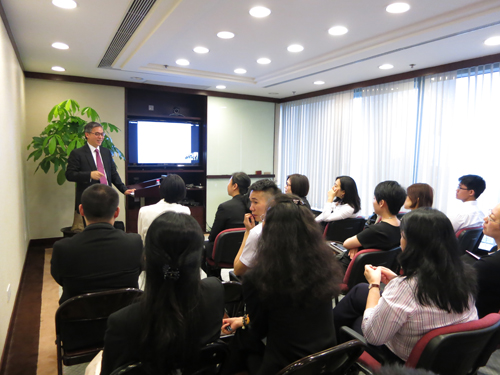 Mr. Philip Wong, Partner of the Commercial Department, delivering his speech at the seminar